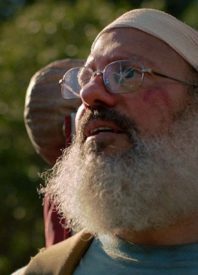 David Cross known for his comedic skills,  takes on the toughest role of his career in, The Dark Divide.

The Dark Divide is based on the true story of renowned butterfly expert Dr. Robert Pyle's (David Cross) perilous 1995 journey across one of America's largest undeveloped wild lands.

The shy author finds himself in over his head on an epic, life-changing expedition. He does so at the urging of his dying wife Thea (Debra Messing). He goes through Washington's Gifford Pinchot National Forest in search of new species of butterflies.

Over the course of his six-week adventure Pyle battles self-doubt, the grueling trail, and the people and creatures who call this forest home. And, somewhere deep in the heart of "The Dark Divide", he makes a discovery that challenges everything he knows about the natural world.

The film also stars, David Koechner, Cameron Esposito, Gary Farmer and Patterson Hood. Tom Putnam wrote and directed the film.

Funnyman David Cross is best known for his great humor in his long career. He played the unforgettable Tobias Funke in the hit series Arrested Development. And he frequently collaborated with Bob Odenkirk with various sketches over the years. Additionally, he voiced several popular animated characters. They include Minion in Megamind, Noah in Archer, and Crane in the Kung Fu Panda series.

Made on an extremely tight budget over a few weeks both the cast and crew were put through the ringer during the shoot. They  even encountered a tornado that caused a tree to flatten one of their trucks.  Thankfully the accident hurt no one. And they kept on going in order to finish a story they truly believed in telling.  The film is so full of heart and will make you question you why an introvert like Robert Pyle would ever endanger himself in the wilderness.

David Cross's performance is quite exceptional and it will be difficult not to fall in love with this unique and crazy wilderness story.

The Dark Divide will be available on VOD/Digital platforms on November 10, 2020

Bonnie Laufer spoke with both David Cross and writer/director Tom Putnam via ZOOM.