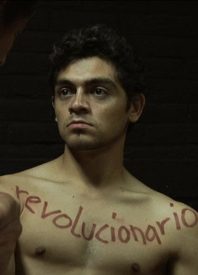 Niche viewers might relate well with Tina Leisch's Roque Dalton: Let's Shoot The Night, a documentary about an obscure El Salvadorean poet and revolutionary, the Bertolt Brecht of Latin America. And that's because of how he used language to describe what's near and dear to El Salvadoreans.
Cinema is an artistic that most directors use to capture conventional beauty, but this film instead captures nondescript places like libraries. Roaming grounds for leftist academics whose outer beauty and youth made way for wisdom to explain a man and a moment.
Roque Dalton's mysterious death in the 1970s meant, obviously, that he left behind fellow comrades, but there are so many of them that lived up to 2013, Let's Shoot The Night's original release date, that this feels like it's both a celebration of all of those lives.
The film even talks to one of his drinking buddies and a friend who visited sex workers with him, Luis Dominguez Parada. The mainstream world considers those antisocial behaviors as flaws but it doesn't shame both men for those indulgences.
Every story always has its deeper meanings and that's equally true in this film. Even the drinking stories here hinted at the hunger and lack of resources in 1950s El Salvador. It also hints at the fun things leftists did to survive.
This is a film where literature and sex work collide. That's just one of its many juxtapositions that are surprisingly fun and work. In one segment, two men reenact the interrogation that Dalton endured from an El Salvadorean CIA plant.
A police officer reads Dalton's words in front of cutouts of the latter and his leftist buddies. Even the working class in El Salvador memorize poetry. It makes me feel guilty that I haven't read a book in years and that I don't live in a more literate society.
Dalton wrote about "those who never know where they're from," writing about the 'guanacos'. The wave of immigration from El Salvador to the north for better lives, waves that existed before today. In a way, Dalton led the same transient lifestyle as an intellectual, even going to Prague, one of the many places where he lived.
Dalton ran in the same circles as the Latin American socialist diaspora that secretly tried to survive there. One of the interviews during the Prague segment talked about the discrimination they faced even from fellow socialists. This discrimination should be obvious but is still eye opening.
"There is no observation without interpretation," a colleague says as he reads Dalton's words. He wasn't quite a 'guanaco'. And he was more of a lower middle class man who died either because of the CIA or infighting. But this film shines light on all of the 'guanacos' of the world.
Roque Dalton: Let's Shoot The Night got distribution from Icarus Films. The company gave rights to this film and more on OVID, the place to watch the best of world cinema.