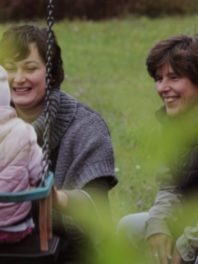 At the beginning of their COVID-19 process, Hungary went into rule by decree providing its right-leaning government the power to supersede judiciary processes. It was a move widely criticized, although probably not unexpected considering the drastic turns the country has undergone since Viktor Orbán's rise to power.
These changes are sharply apparent in Her Mothers, a film which follows the lives of a lesbian couple who decide to adopt a young Roma orphan. Virág is a former politician, who forgone her political career in disgust. Nóra is her partner, a successful musician. Together they must make decisions regarding their future in Hungary after adopting an adorable young daughter named Meli. This is the story of her mothers, and the sacrifices they will have to make.
I feel it imprudent to criticize parts of this. It's a testament of the strength of Her Mothers that it feels harsh to critique the fact that this spends so much time laser focused on parenting difficulties. Dér and Haragonics have crafted a deeply human portrait, where neither of these subjects feel like pawns, but rather, deeply human individuals.
Yet, I cannot help but wish that this were a little longer, and more willing to get into the historical ramifications of Hungary's turn to far-right politics. Footage of an anti-LGBTQ protest is used in the film's opening stages, and it is tremendously powerful at helping us understand the stakes that Virág nad Nóra face. The film chooses to spend its time focused on the portrait of parenthood angle, and it works to an extent. But to really display the changing face of Europe, more context is necessary. Her Mothers is a meaningful portrait of motherhood amidst persecution, but it could do with a little more provided context.