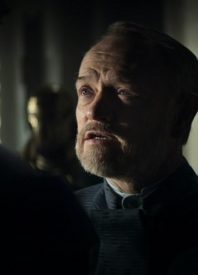 It's been a long time coming, but someone finally adapted Isaac Asimov's classic Foundation novels into a series.

Foundation is the epic saga that David S. Goyer's team adapted from Isaac Asimov's timeless trilogy of the same name. The trailer reveals a deeper look than ever before at the unprecedented adaptation. It invites audiences across the galaxy to embark on a thrilling and emotional journey. The show follows a band of exiles who make a shocking discovery. The only way to save the Galactic Empire from destruction is to defy it. Helmed by visionary showrunner and executive producer, David S. Goyer, the first season of Foundation will exclusively hit Apple TV+ worldwide. It premieres on September 24, 2021 with the first two episodes available, followed by one new episode weekly every Friday.

Revolutionary Dr. Hari Seldon predicts the impending fall of the Empire. Believing this, he and a band of loyal followers venture to the far reaches of the galaxy. They establish The Foundation in an attempt to rebuild and preserve the future of civilization. However, Hari's claims enrage the ruling Cleons — a long line of emperor clones. They fear their unrivaled reign may be weakening. That's because Hari's claims force them to reckon with the potential reality of losing their powerful legacy forever.
The scope of this series will amaze you. You will be in disbelief to learn something about the show's production. Yes, they use plenty of visual effects enhance the show, but there was barely any green screen work. The art directors built all of the sets to scale so that the actors had a fully immersive experience. 

Emmy Award nominees Jared Harris and Lee Pace lead the cast alongside rising stars Lou Llobell and Leah Harvey. The monumental adaptation chronicles the stories of four crucial individuals transcending space and time as they overcome deadly crises. It also chronicles shifting loyalties and complicated relationships that will ultimately determine the fate of humanity. The Apple Original drama also stars Laura Birn, Terrence Mann, Cassian Bilton and Alfred Enoch.

The inaugural 10-episode season of Foundation is led by showrunner and executive producer David S. Goyer, best known for writing the screenplays to several superhero films. His work includes Nick Fury: Agent of S.H.I.E.L.D., the Blade trilogy, Christopher Nolan's Dark Knight trilogy, Man of Steel and Batman v Superman: Dawn of Justice.

Our Bonnie Laufer caught up with several of the cast members including Jared Harris, Lee Pace and showrunner David S. Goyer.

You can check out ALL of the interviews in the playlist below.